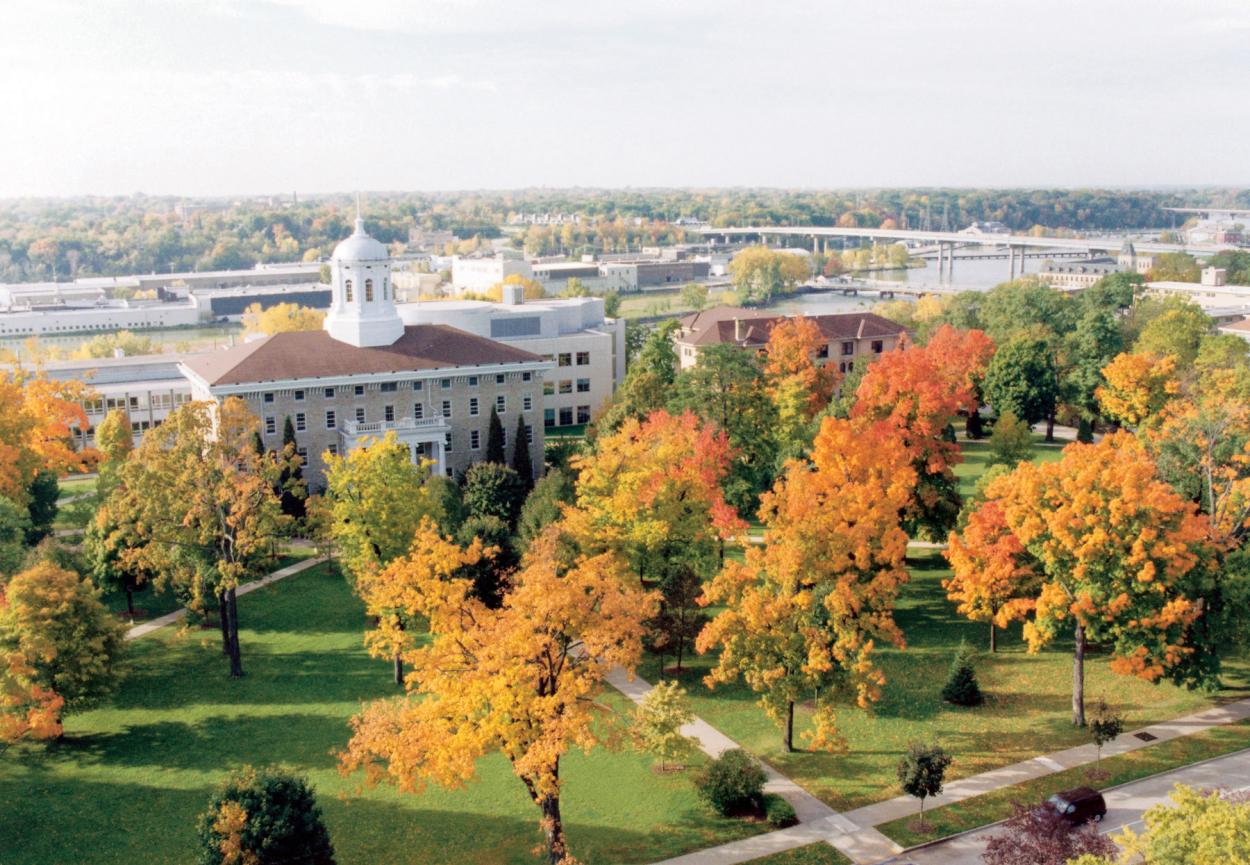 Located in Appleton, WI, Lawrence University is a private liberal arts college and conservatory of music dedicated to undergraduate education. The school describes itself as devoted to Engaged Learning as the most effective way to prepare students for lives of personal fulfillment and professional accomplishment. It is a demanding approach to education for students who demand much of themselves. Engaged Learning takes place in the classroom, the residence hall, the community and all the off-campus and international programs. It is what characterizes a Lawrence education and distinguishes Lawrentians.
Academic
Lawrence describes its academics as a liberal education that is self-directed.  Purposefully designed to enable its students to choose what they want to be and what they want to create, Lawrence students use their education for many careers—law, public service, health professions, business, teaching, science creative writing, theatre, the social sciences and art. The liberal education that Lawrence provides is a solid foundation for all of these careers—and many more. The school helps its students learn how to learn things they have not experienced before and create what is new, and these abilities will help them in anything they choose to do in life.
From the moment they arrive at Lawrence, new students have something in common with every other new student on campus—Freshman Studies. The cornerstone of the Lawrence curriculum for more than sixty years, each Freshman Studies class consists of no more than 15 students who explore a multidisciplinary list of books, musical works, art and films in discussions facilitated by a professor. Students are asked not to summarize or memorize, but to think deeply and critically about each topic. The Freshman Studies course is required of all incoming students and establishes the expectation for all other classes to come—regardless of discipline. Those expectations include advanced preparation, critical thinking, active class participation and disciplined writing. The fact that all freshman simultaneously work through the same syllabus ensures that all new students share the excitement of liberal learning and that discussions continue well beyond the classroom
The most popular majors at Lawrence include visual and performing arts, biological and biomedical sciences as well as psychology.
Social Life
Lawrence students come from approximately 45 states and 38 countries. Almost all students live on campus (96%) and there are seven major residence halls on campus.
Athletically the Vikings compete at the Division III level in the Midwest Conference which provides championship competition in ten men's and ten women's sports for ten liberal arts colleges located in Illinois, Iowa, and Wisconsin. Lawrence participates in Midwest Conference play for all varsity sports except hockey, which competes in the Northern Collegiate Hockey Association, and fencing, a member of the Midwest Fencing Conference.  
Environment

Lawrence has an 88 acre campus in a city of 74,000 approximately 30 miles southwest of Green Bay, Wisconsin and it is 100 miles north of Milwaukee.
And one more thing…
For students interested in a conservatory of music within a liberal arts college, Lawrence is one of a select group including Oberlin and Bard that fits that requirement.  Lawrence has three degree options in the Conservatory which are a Bachelor of Music (B.Mus), Bachelor of Arts (BA) with a major in music, as well as a five-year B.A. and B.Mus. double-degree program.  Conservatory admission is audition based.  

By the Numbers

Undergraduate Population: 1,561
Acceptance Rate: 68%
Average ACT / SAT scores: test optional
Student-faculty ratio: 9:1
4-year graduation rate: 63%
US News Ranking: 60 National Liberal Arts Colleges (2017)
Tuition: $44,844 (2016-17)