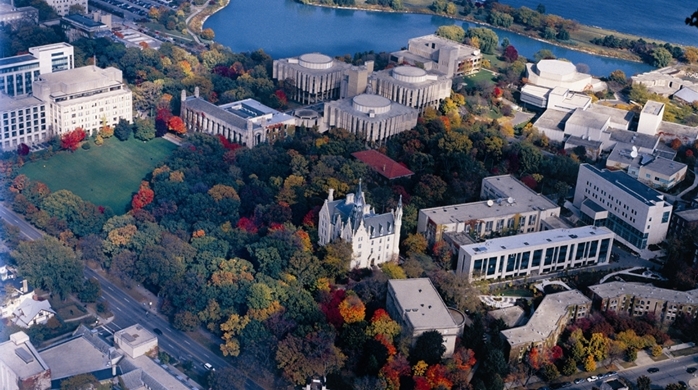 Located in Evanston, IL, Northwestern University is a mid-sized private university that was founded to serve the Northwest Territory. In 1853, the founders purchased a 379-acre tract of land on the shore of Lake Michigan 12 miles north of Chicago. They established a campus and developed the land near it, naming the surrounding town Evanston in honor of one of the University's founders, John Evans. After completing its first building in 1855, Northwestern began classes that fall with two faculty members and 10 students.

Twenty-one presidents have presided over Northwestern in the years since. The University has grown to include 12 schools and colleges, with additional campuses in Chicago and Doha, Qatar. It has a total undergraduate enrollment of 8,353 and more than 21,000 students in total. On its website, Northwestern touts top rankings including #12 national university (US News), #5 business school, #8 education school, #12 law school and the #17 medical school.
Academics

Northwestern offers 102 undergraduate majors spread across seven schools that serve undergraduates. These schools are Arts and Sciences, Communication, Education & Social Policy, Engineering, Journalism & Marketing, Music and Professional Studies.
In the Medill School of Journalism, Media, Integrated Marketing Communications, students learn to be communicators who can adapt to the changing media landscape. According to their website, Medill's philosophy has been based on a simple concept: students learn best by doing. The Journalism Residency program matches students with real-world experiences to work full-time alongside veteran journalists and marketing professionals for an entire academic quarter. The goal is for students to get hands-on experience that helps them develop new skills, test old skills, work under deadline pressure and hone their news judgment or marketing communications skills. Students also sharpen fact-checking and research skills, learn about communications methods and digital technologies, explore new career paths and build confidence in their capabilities.
Medill currently has more than 100 media partners around the world – news/online companies, magazines, broadcast stations, online organizations and marketing communications groups – that participate in the program.
The most popular majors at Northwestern include journalism, economics, psychology and biology.
Social Life

Students come to Northwestern from 48 states, the U.S. territories and 56 countries. Over 50% of the student body are students of color. Northwestern has 46 fraternity and sorority chapters, with around 40% of the student body participating,
Northwestern offers 19 varsity sports. All sports compete at the NCAA Division I level, and the Wildcats participate in the Big Ten Conference. The Big Ten members are all state flagship public universities except for Northwestern. They include Illinois, Indiana, Iowa, Maryland, Michigan, Michigan State, Minnesota, Nebraska, Ohio State, Penn State, Purdue, Rutgers and Wisconsin.
Environment

Northwestern has a 240-acre campus in Evanston, IL. The school is about 14 miles from Chicago, accessible by bus, train or car. Both O'Hare and Midway Airports are about an hour from campus.
The Evanston campus is located on Lake Michigan. North Campus houses athletics, fraternities and science facilities. South Campus is home to the Arts and humanities plus the sororities.

And one more thing…

Paint the Rock. According to the school, students began painting the iconic Rock in the 1940s, first as a prank, then as an accepted avenue of expression. Years later students developed a tradition of guarding the Rock for 24 hours before painting it in the middle of the night. Almost every night, a different group paints a message or symbols promoting a particular cause or event.
By the Numbers

Undergraduate Population: 8,353
Acceptance Rate: 10%
SAT / ACT (25/75) scores: SAT 1400-1560, ACT 32-34
Student-faculty ratio: 7:1
4-year graduation rate: 82%
US News Ranking: National Universities 12 (2017)
Tuition: $50,855 (2016-17)