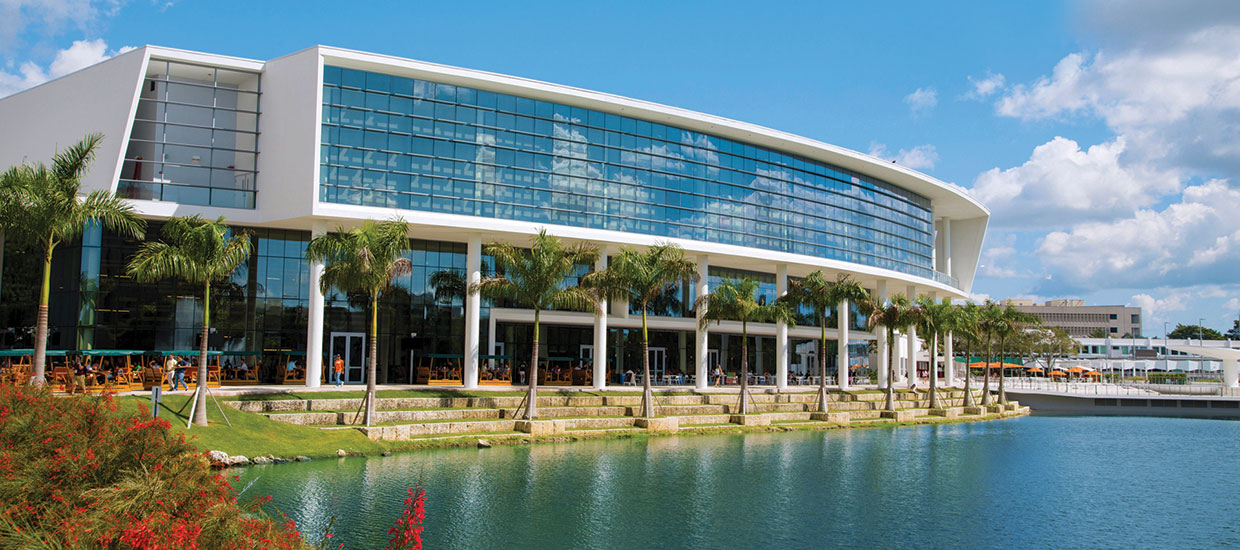 Students who want to take advantage of a blend of cultures and academic opportunities while soaking up the sun might want to put the University of Miami on their radar. Located in Coral Gables, a suburban community less than 8 miles southwest of downtown Miami, this mid-sized university is becoming more selective and sought after for its  strong academic and preprofessional programs. Read on to see why U Miami attracts a diverse student population from across the U.S. and around the world!
Academics: U Miami undergraduate students have 180 majors from which to choose, across  nine schools and colleges (Miami also offers a graduate school as well as medical and law schools). The most popular majors are nursing, finance, biology and psychology. A newer Global Health Studies program offers pre-med, humanities and social sciences tracks, as well as minors and accelerated master's degree programs. Five University Institutes and three University Centers – ranging in areas from Data Science & Computing to Global Black Studies to Ecosystem Science & Policy – support interdisciplinary research, education and teaching.
Residential Life: U Miami subscribes to a residential college system designed to provide a sense of belonging and engagement, especially to first-year students. Each includes a live-in faculty member as well as professional and student staff who plan varied social and academic programming. Dorms at U Miami are receiving a major upgrade as part of a multi-year plan to modernize student residential life: In 2020, the 12-acre Lakeside Village opened to house primarily sophomores as well as juniors and seniors; it comprises 25 interconnected buildings and a multitude of outdoor spaces including a grand courtyard, study spots, recreational spaces, and outdoor terraces. The highly anticipated Centennial Village will comprise five residential colleges steps from Lake Osceola, (eventually replacing two existing RCs that are planned to close. Part of it will be ready for fall 2024 students and it is slated to be complete in 2026.  About 5,400 students (37%) live on campus currently.
Social Life: Upwards of 3,000 students (19%) participate in the school's 25 fraternities and sororities. Popular annual events include International Week, SportsFest, and a service event called Gandhi Day. U-Miami is part of the Division I Atlantic Coast Conference, where the Hurricanes take on schools like Duke, Florida State, North Carolina, and Notre Dame. School spirit is robust and football games are played at Hard Rock Stadium, which the NFL Miami Dolphins call home.
Environment: Located in one of the country's most vibrant and international cities, U-Miami's 239-acre campus is a tropical oasis with beautiful palm trees, fountains, modern architecture and the centrally located Lake Osceola. Not far from campus is South Beach, an historic Arts Deco area on the Atlantic Ocean with famous beaches and restaurants. Coral Gables is an upscale area with historic homes and a variety of restaurants and shops. Students from the Midwest and Northeastern U.S. may especially appreciate that the area's average temperature December through March is 75 degrees.
Final tip: U Miami recently began considering "demonstrated interest" as a factor in evaluating applicants, so if this school is a top choice, it may be worth doing a virtual or in-person visit and letting the admissions committee know why you feel this school is a great fit for you!
By the Numbers:
Undergraduate Population: 12,504
Acceptance Rate, Fall 2022: 19%
ED Acceptance Rate, Fall 2022: 57%
Fall 2022 entering class spots filled through ED: 40%
Middle 50% SAT, Fall 2022: 1330-1450
Middle 50% ACT, Fall 2022: 30-33
Cost of attendance: $81,506
Percentage of students receiving financial aid: 73%
4-year graduation rate: 73%