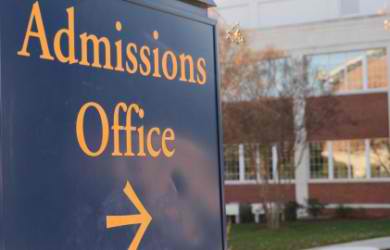 Shrouded in mystery, the college admissions process is one that seems unexplainable to many. What many students do not realize, though, is that colleges are actually fairly predictable in how they determine their admissions decisions.
In fact, most colleges apply a holistic admissions process that looks at several key components and factors when evaluating a student's application–not just their grades and test scores. What makes the admissions process seem so random results from colleges weighing certain factors differently.
That being said, there are general factors that colleges consider to be routine in evaluating a college application:
Intangible qualities: This is everything outside of a student's grades: extracurricular work, volunteering, and other relevant experiences. These factors are arguably equally as important–if not more important–than grades and test scores.
Rigor of coursework: If a student's high school offers AP classes, take advantage of them! If a college sees that the student was offered AP classes but chose an "easy" schedule instead, they may see the student as unable to deal with the rigor of a college courses.
GPA: A student's overall high school GPA does matter, especially in their senior year. It's important that the student stays focused and finishes strong as to not harm their chances of getting in.
Standardized test scores: Just as the GPA is important, so are those ACT, SAT, and SAT Subject Test scores. Taking an adequate amount of time to thoroughly prepare for these tests can help a student's chance of getting in.
Application: Filling out the application may seem like one of the easier and less daunting tasks to complete, but students should not take it lightly. From deciding which teachers should write recommendations for the student to simply filling out the form, all of these components should be considered.
Essay: Ensuring the student does not make mistakes on the application is important, but having a solid essay is something that should not be overlooked. The college essay is how colleges judge whether or not the student is a good fit for the school and if the student will be able to bring something to the school that sets them apart from others, so taking time and focusing on that essay can really make or break the student's chances of getting in.
Demonstrated interest: This is just what it sounds like–colleges want to admit students that want to go to their school. Showing interest can involve interviewing, contacting the admissions office and even taking a tour.
Legacy Status: If an immediate family member or even distant family member goes to the school, the student has legacy status. Just because the student has legacy status, though, doesn't mean high school grades do not matter! And more often than not, legacy status is a minor factor or one that does not determine the student's acceptance.
Geography: Sometimes where a student lives matters, and can factor into the admissions process.
While colleges may weight the importance of each of these factors differently, some factors are clearly more important than others:
[table id=4 /]
SOURCE: NACAC Admission Trends Survey, 2011
Overall, these factors are not the end all be all. While important, it is essential to look at what each college looks for in an application, especially if the college doesn't follow the Common Application process.