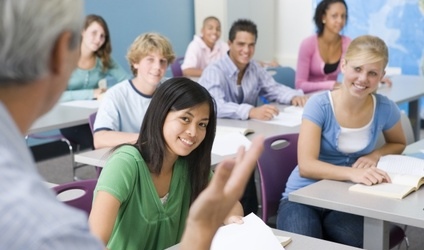 While starting college is exciting, it is also normal to feel nervous. College is a major transition involving changes in many aspects of a student's life, from where s/he goes to school to where s/he lives to whom s/he knows. Students often arrive on campus not knowing very many people, which can be intimidating. Students need time to adjust to the differences between high school and college, which can be overwhelming. But fear not. Colleges have many programs in place to help students make the transition. Orientations and advising meetings are generally mandatory, but there are also optional programs that that are worth checking out. Freshman Interest Groups and living-learning communities can help students adjust to life in college and find their place on campus. Read on to learn more about these innovative programs.
What is a Freshman Interest Group?
Also known as FIGs, Freshman Interest Groups consist of a cluster of classes (usually two or three) based on a related theme. Schools have lots of different FIG options that range from the sciences to the humanities and everything in between. Some examples of FIGs are: "The Artist as Scientist," "Digital Storytelling," "Digging up History," "Justice, Beauty and Nature," and "Law and Order." (For more examples, see: https://www.utexas.edu/ugs/fig/courses/cola, https://fyp.uoregon.edu/content/finding-fig-you, http://reslife.missouri.edu/fig, http://fyp.washington.edu/first-year-interest-groups/ and http://www.figs.wisc.edu/catalog.)
Usually, the cluster of classes will allow students to explore a given theme from different disciplines. The specifics of the FIG vary by school, but normally the students enrolled in a given FIG will have weekly meetings and discussions with around 20 other students and a leader.
Depending on the school, FIG leaders may be faculty, older students or both.
Participating in FIGs allows students to take classes with likeminded students and to see those students often over the course of the semester. As a result, they can form a more intimate community with their classmates and enjoy greater personalized attention from their FIG leader as they adjust to college.
What are living-learning communities?
Students live in section of a dorm (or other university residence) designated for students interested in a particular subject, activity, major or lifestyle.
Students can pursue their interests through activities that their living-learning communities organize and meet likeminded students. Like FIGs, living-learning communities allow students to transition more smoothly to college and help them forge relationships with other students. Some FIGs and honors programs also have their own living-learning communities.
Students can choose from a variety of themes based on school major, lifestyle, language preference or other interest. To get a sense of the wide array of offerings, check out these websites:
http://housing.unc.edu/residence-life/residential-learning-programs
https://www.housing.umn.edu/llc
http://www.du.edu/livinglearning/
http://housing.uiowa.edu/living-learning-communities
https://www.kent.edu/housing/living-learning-communities
Or students can explore the websites of schools they plan to visit or apply to.
Good to know:
->Students participating in living-learning communities and FIGs tend to do better in school, graduate faster, and be more satisfied with their college experiences.
->Schools may require students to apply to join FIGs and living-learning communities so check to see what specific school policies are.
->Check out college websites for specific FIGs and living-learning communities. Generally, schools will post lists of current and/or past FIGs on their websites. Students interested in living-learning communities should check out the student housing section of school websites.
->While visiting campus, students can ask admissions staff about Freshman Interest Groups and living-learning communities. With advance notice, the admissions staff may also be able to arrange for applicants to speak with students who participate in FIGs or living-learning communities. Students might also inquire about sitting in on a FIG class or spending the night in a living-learning community; they should be sure to ask admissions officers well in advance to facilitate these visits.
Bottom line:
Increasingly, colleges—particularly large universities—offer a variety of options, such as FIGs and living-learning communities to ease students' transition to college. These offerings can help alleviate some of the anxiety of meeting new people, create intimate communities on large campuses and give students more personalized attention. Participants stay in college, do better in school and are happier with their college experiences. Check them out!