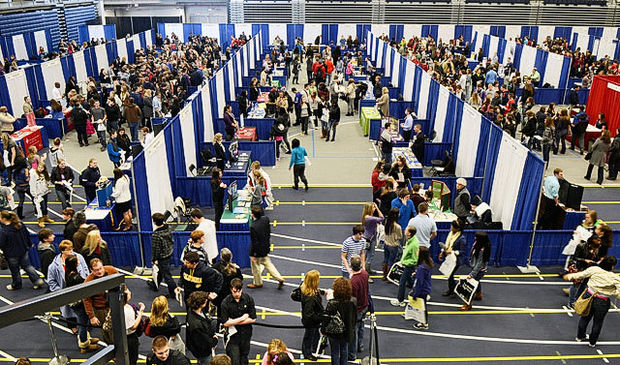 With fall just around the corner, college preparations will swing into high gear. For juniors, that means beginning the college research process in earnest, including compiling a list of schools to apply to. Conveniently, the fall also brings with it college fair season. College fairs are a great way for students to get a jump on their college research. They bring together college representatives from a wide array of different schools in the same place, and college representatives want to talk about why students should apply to their schools. Read on for how students can attend college fairs and how to make the most out of them.
Why attend a college fair?
Students may be interested in attending college fairs when they start researching schools they might apply to. They can also be useful for initiating contact with colleges they cannot visit in person. Finally, attending college fairs and speaking with college representatives demonstrates interest in a school, which some colleges take into account when they make admissions decisions. (Read more about demonstrated interest here: http://galined.com/archives/demonstrating-interest-why-and-how)
Where can I attend a college fair?
High schools may bring college representatives to the school, or students can attend free, public national college fairs. The National Association for College Admission Counseling (NACAC) college fairs are offered in the fall and again in the spring.
More information is available here on the national college fairs college fairs: http://www.nacacnet.org/college-fairs/students-parents/Pages/default.aspx
For info on high school college fairs, students should consult their guidance counselors to get a list of which colleges will send representatives.
How can I prepare to attend a college fair?
Attending college fairs can be more fruitful if students already have a sense of what they want out of college. Naturally, students attend college fairs at the beginning of the college research process, so they need not know exactly what they want.
Still, it is helpful for students to think about how they envision their college experience and what appeals to them as they start looking at schools. For instance, students may have a sense of whether they want to attend schools in a certain region of the country, require a specific major, or prefer a large or small college. For more ideas about what students can ask to target their college searches, see this blog post: http://galined.com/archives/2-steps-for-making-your-best-college-list
Look through the list of colleges, and try to get a sense of which schools match up well with student interests.
What kind of questions should I ask at a college fair?
Students should research schools to see what the colleges at the fair offer students and think of questions to ask admissions officers. Where possible, students will gain more insight into schools if they have done a bit of research and prepare a list of thoughtful questions beforehand. For instance, instead of asking if a college offers a major in Spanish, something easily verifiable on the college website, students might ask what sets the university's Spanish college apart from other college Spanish departments. Based on the research they do, students can also ask questions specific to their own situations and get personalized responses. For instance, if a student wants to do a double major, s/he can ask the college representative how that might work in practice.
On college recruiting materials
Collect pamphlets and brochures from college. Review them. But make sure to do research on schools beyond them. College promotional materials can be very useful for finding information, and even more helpful in inviting further research on interesting aspects of colleges. Remember, too, that college materials are also advertisements or promotions that present schools in the best possible light. By all means, get excited what the college literature says, but use that info that info as a starting point.
Keep in touch
Get a business card from the college representative. If students continue to be interested in the university and have questions or wish to arrange a visit, the contact info will come in handy.
Bottom line
Remember, the point of the college fair is to find out more information about colleges, not to apply to the schools on the spot. Students shouldn't try to impress college representatives or present applicant materials, but rather to find out more about the colleges and what the offer, and how well those schools match up to students' strengths and interests.