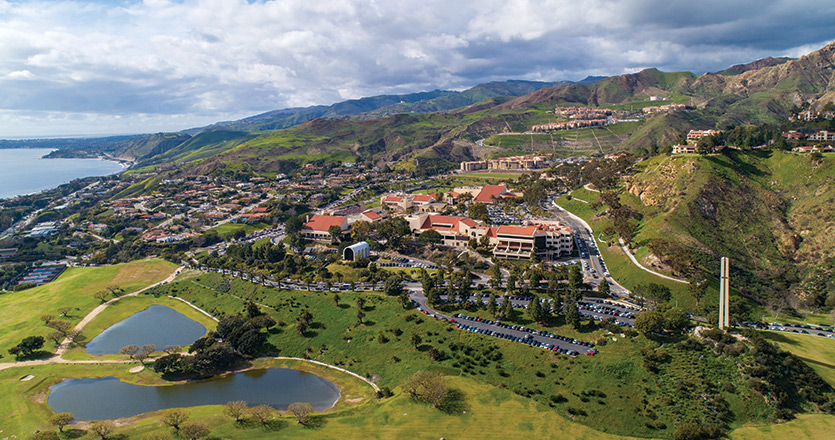 By Paula Wheeler
On a recent visit to Pepperdine University in Malibu, Calif., our student tour guide joked about how everyone's favorite thing about the school is the view. Built into the hills of Malibu, Pepperdine does offer stunning vistas of the Pacific Coast from just about anywhere on campus. But this private, Christian liberal arts university offers much more to the approximately 3,500 undergraduates enrolled in its Seaver College of Letters, Arts and Sciences, as well as its four graduate schools. Read on to learn more about Pepperdine!
Christian Character
Self-made retail chain owner George Pepperdine founded his namesake college in 1937 to offer students an excellent education while emphasizing Christian character. "We do not compel you to accept it," he said to the school's earliest students. "You are free to make your own choice, but we want you to know what it is." Today, about 70% of Pepperdine's undergrads identify as Christian, and the university emphasizes that "all are welcomed and encouraged to challenge each other" and notes that "Students, faculty, and staff members from all backgrounds participate in conversations of faith inside and outside of the classroom." The Pepperdine application does require a supplemental essay question that asks about the applicant's reasons for wanting to attend, and how they might contribute to conversations of faith on campus. All Pepperdine undergrads are required to take three religion classes; there is also a requirement to participate in spiritual life activities each semester, which can range from attending chapel to small-group yoga practice.
Academic Highlights
One point of pride for Pepperdine is the 85% acceptance rate among its graduates who apply to medical school and other graduate health programs. This is nearly double the national average of 43%. The statistic speaks to Pepperdine's personalized approach that includes small class sizes, strong student-professor relationships, and commitment to providing students in all disciplines with opportunities to participate in research, even in the first year. (Our tour guide was engaged in a fascinating research project about bi-lingualism of Los Angeles-area radio stations!)
Student Life
On-campus housing is guaranteed for two years, in single-sex dormitories that encircle the HAWK (Pepperdine's student center). Freshman are well cared for: not only are their bathrooms cleaned for them, but "Housing and Res Life  picks people who really care about you" as their resident advisors, according to our guide.
He also mentioned that in his four years as a student, the number of campus clubs grew from 70 to 90, as students find it easy to start them up. One club rents out gear to help students get out and enjoy nature, which the lovely weather invites. The student programming board also puts together an annual film festival to feature student-made films, where students dress up and walk the red carpet. 
Speaking of performing arts, the center on Pepperdine's campus is the largest of its kind in Malibu and often attracts big-name acts, as well as serving as a beautiful platform for student performances. 
If you're California dreamin', seek to deepen and explore your faith, and share Pepperdine's core values of purpose, service and leadership, check out what Pepperdine has to offer!