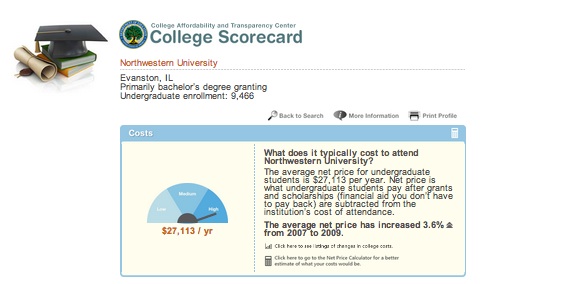 The State of the Union address on Feb. 12 put jobs and education front and center. No matter which side of the aisle you sit on, most people agree that the costs of college are rising to astronomical levels. Following the State of the Union, the President's administration released the College Scorecard. The Scorecard, from the U.S. Department of Education's College Affordability and Transparency Center, allows students to search for a suitable college. By using the College Scorecard, students can discover more about a college's affordability and value in order to best choose which college to attend. To best utilize the College Scorecard tool, here is a brief guide using my alma mater, Northwestern University.
First, enter the name of the college of interest or select factors that are important, which could include potential major interests, college location, costs and even admission size (as seen in the image to the right).
Following the selection of these components, a "scorecard" is produced that highlights five key factors to college enrollment:
Costs
Graduation Rate
Loan Default Rate
Median Borrowing
Employment
The "Costs" section outlines tuition rates at the chosen instution, how prices have increased over time, and also offers links to a net price calculator that allows students to better estimate their costs.
The "Graduation Rate" portion offers the percentage of students that graduate.
In order for students to see whether or not students are able to pay back their loans, the "Loan Default Rate" box compares the percentage of students who default on their loans at the chosen institution against the national average.
The "Median Borrowing" portion highlights the average amount borrowed by families, the average monthly pay back amount, and the average times it takes to repay loans.
The final portion, "Employment", has not been fully integrated into the site, and instead offers a link to an external service that allows students to explore potential careers and average earnings.
By clicking "More Information" above the costs tab, students can also see how this information is compiled, and go directly to the source itself. Both this portion and the College Scorecard itself are offered in printable formats. To further research suitable schools, students can reference the U.S. Department of Education's Federal Student Aid website, in addition to the Institute of Education Sciences College Navigator function. More resources are also offered on the U.S. Department of Education's College Affordability and Transparency Center site.
Graduation rates and post-graduation earnings may become a rising factor in determining which college to attend. This will likely lead to more students applying to more schools to try to maximize their "bang for their educational buck." My prediction: a more competitive college admissions pool.