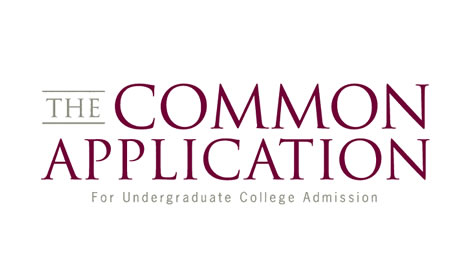 The fourth generation Common Application Online (CA4) is finally here!  The Common Application was last updated in 2007 and received major feedback from counselors, applicants, and teachers on how the application could be improved.  The two-year, $8 million development project of the Common Application took this feedback into consideration and produced the CA4.  The new Common Application Online is extremely modern and user-friendly.  The changes to the Common App are vast – below is a breakdown of the major changes to the Common Application.
New essay prompts.  There are five new essay prompts on CA4 that were released this past February.  The new essays have a strict word limit: answers must be between 250 and 650 words.  Take notice the maximum word count increased from 500 words to 650 words.  Unlike CA3, essays cannot be uploaded on CA4 and instead they must be copied and pasted – making it less cumbersome for applicants who choose to apply on an iPad, tablet, or even a cell phone.  It's important to note, however, that since there are no uploads on CA4 students will be unable to upload resumes, activity sheets, etc. to the Common Application unless specifically asked for it by a college or university.
Art and athletic supplements. CA4 eliminated the athletic supplement and created a new arts supplement.  CA4 brings applicants to an integrated SlideRoom panel to complete the arts supplement if the school is an Exclusive II member – if the school is not an Exclusive II member then students will complete an arts supplement outside of the Common Application.
Online-only application.  CA4 is not available in paper form – it is only online.  However students can view a "Print Preview" of their application that is identical to the application colleges will receive.
Ability to revise an application.  Students are no longer restricted to a certain number of edits on an application.  Unlimited editing allows students to revise and change an application after submitting it to one school, but before submitting it to another school.  The only exception: essays have a maximum of three versions.
Other changes:
Non-academic recommendations are allowed on CA4, such as recommendation letters from coaches.

On-screen support and progress checks help students answer questions thoroughly.

CA4 has "Smart Questions" that will keep an applicant on track and will not allow them to pass over important questions. Regarding personal data, "Smart Questions" will prompt applicants to answer certain questions based on his or her previous input.

Below are screenshots of the new CA4 homepage and navigation page.
CA4 is a streamlined application process with a completely revamped homepage.  The homepage contains asingle login page for all users and includes a Help Center button along with links to its social media websites.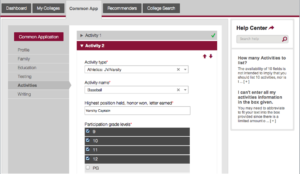 Once a student logs in to his or her account, he or she is brought to a navigation page with a number of tabs across the top.  The three application tabs are Dashboard, Common Application, and My Colleges.  Dashboard is a status overview of the colleges a student applied to; Common Application is where a student finds generalquestions asked of all Common App members; and My Colleges is a page where students will take college-specific action, such as writing a supplemental essay.