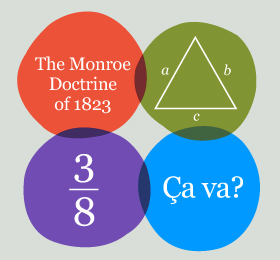 While most students are required to take the ACT or SAT test for college admissions, little realize that the SAT Subject Tests are other tests that many selective schools require for admission, course placement, and to advise students about course selection. Here is everything students need to know about the SAT Subject Tests:
What are they?
The SAT Subject Tests are one-hour long exams that focus on specific academic subjects, scored on a scale of 200-800. With nine subject options (20 tests in total), it's important to consider all options.
When should students take them?
The tests are offered six times a year in the U.S. and internationally, and students can take 1-3 tests on a single test date, and can register for these tests as soon as they finish a course that covers the subject matter at hand. For example, a freshman who has completed an honors or AP course in U.S. History can take the U.S. History SAT Subject Test.
What format are they in?
While most of the tests are solely multiple choice, some have unique formats (e.g. foreign language "listening" components).
What schools require them?
Click here to learn which schools recommend and require them.
What subjects do they cover?
[table id=1 /]
When should a student take the SAT Subject Test?
Arguably the best part about the subject tests are that while some colleges specify which SAT Subject Tests applicants should take, others allow students to choose. Which is why the SAT Subject Tests (required or not) allow students to differentiate themselves and stand out amongst other applicants to showcase impressive admission credentials. Furthermore, taking these tests could allow students to fulfill basic requirements, such as introductory courses or general education requirements.
How should students prepare?
While we recommend students take these tests to show their mastery in a given subject area, students should remember to thoroughly prepare for these tests. One way to increase the odds of doing well is to enroll in our test preparation program.
Overall, it's essential that the student check with the admissions department at their college of choice to learn more about the SAT Subject Test requirements, and to honestly assess the strengths of their mastery in these given subject areas.
SOURCE: College Board