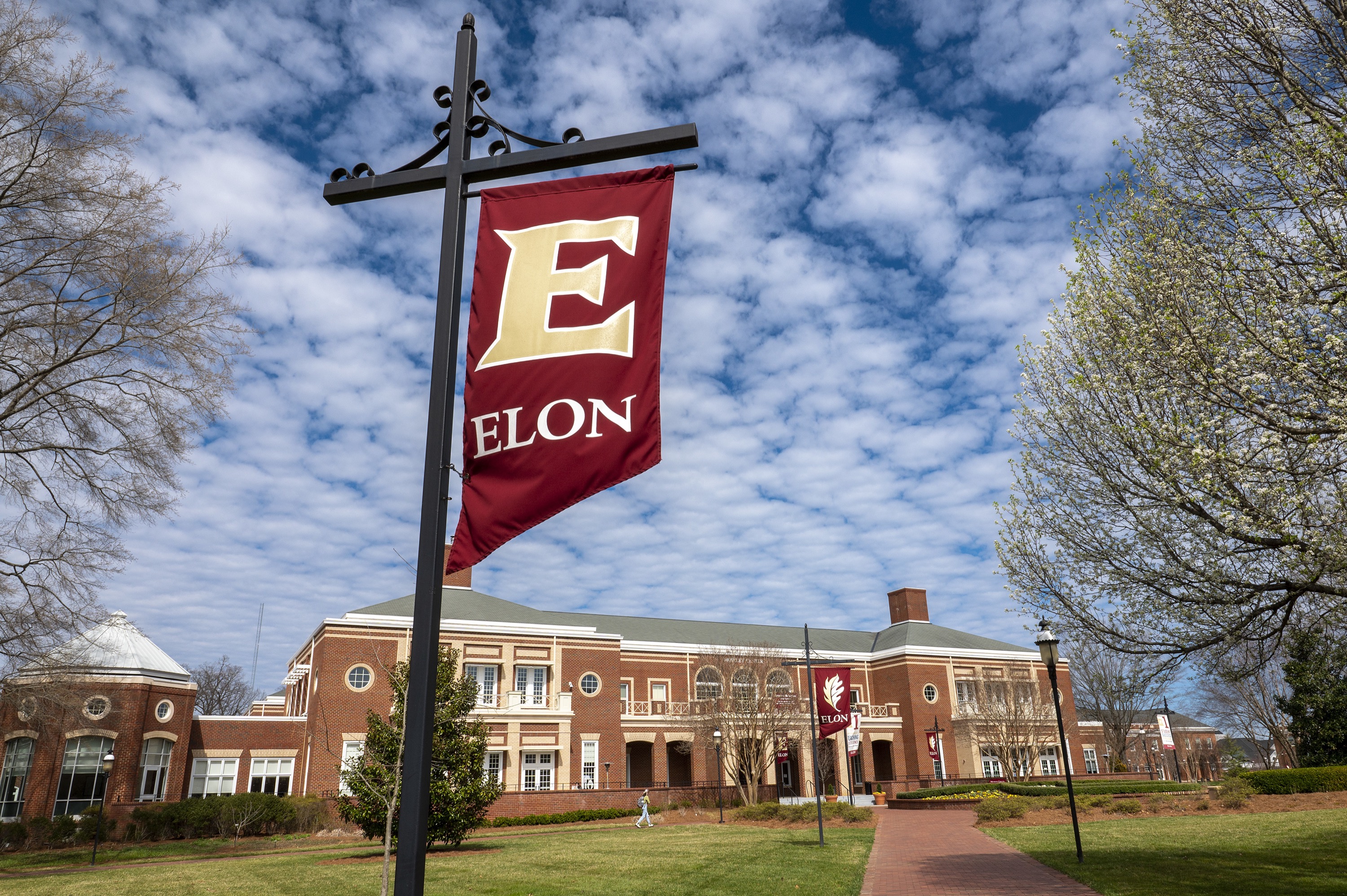 by Jessie Brumfiel
In North Carolina, often overshadowed by Duke and UNC Chapel Hill, the smallish  (6,000 undergraduates) Elon University has carved out a growing name for itself. Elon  is a well-run university that delivers a high-impact education. Students come to Elon  looking for a tight-knit campus community, quality teaching, and excellent career  preparation, and they find that – plus much more at this southern college.  
Situated in the small town of Elon, between Greensboro and Raleigh, Elon  provides four seasons of weather. Classic red-brick buildings are linked by  expansive lawns and create a postcard-perfect collegiate look. Over 75% of  students come from beyond North Carolina, attracted to a supportive  environment and exciting programs.  

Elon's classes are taught by professors (not graduate students) and are capped  at 33 students so genuine faculty-student mentorship can emerge. The  university has been named #1 for undergraduate teaching, and popular majors  include business (finance, accounting, and marketing), communications,  psychology, drama, and biology.  

Students at Elon must participate in at least two experiential-learning  programs, which help prepare them for careers after college. One option is an  internship program that connects students with employers in cities such as New  York, Boston, Chicago, and Los Angeles. Nearly 90% of students participate in at  least one internship.  

Elon has been named #1 for its study abroad program (ranked by the Institute  for International Education) for 17 years in a row. With 100 options in over 50  countries, the possibilities are endless. Field research in a Brazilian jungle?  Host family in Israel? University life in Melbourne? Over 85% of students go  abroad at Elon, and all students start thinking globally with a first-year seminar  called The Global Experience.  

Elon's upscale campus housing wins praise from students, and many living learning communities help students find others who share their interests.  Options include Creative Arts, Gender and Sexuality, and Innovation. With  limited dining in town, Elon brings excellent food to campus in the form of  
three dining halls and nearly 20 smaller eateries around campus that please any  type of eater.  
Those craving school spirit will find it at Elon; students show pride when  supporting the school's DI athletic teams, and participate in recreational sports  or competitive club sports. Elon isn't all about sports, though. The university  offers an impressive speaker series, comedy nights, and concerts. The dance  and theatre programs are strong and students support those performances in  equal measure. 

Student life at Elon centers on campus: with 260 student-led clubs, there's  something for everyone to get involved with. A club leadership position also  fulfills one of students' experiential-learning requirements. Students report  that they look forward to a favorite campus tradition, a weekly free breakfast  and coffee where students and faculty mingle.  

Elon's helpful admission office is looking for students with a strong academic  record and a desire to contribute to the campus community. Brand new  academic majors in nursing and engineering are sure to help Elon continue to  attract students who value a blend of personal attention, good teaching, and  well-curated student experiences.