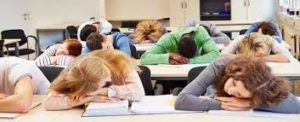 As spring edges toward summer, seniors may find it hard to resist the urge to slack off. Applications have been submitted, acceptances have been received, and graduation parties are just around the corner. While students definitely deserve to treat themselves to fun, rest and relaxation after slogging through college applications, it is in students' best interests to continue working until school ends for the summer. Phoning it in too much during a bout of senioritis can hurt students' plans for the future. For the scoop on why students should only start their summer vacations once the school year has ended, read on.
Keep on keeping on: college acceptance depends on continued performance
Remember that college acceptances depend on students maintaining the same level of academic performance that they had when they were admitted. Stark drop-offs in performance can lead colleges to rescind admissions offers. Colleges receive final transcripts from high schools in the summer, and they do review them to make sure that students have not strayed too wildly from the academic records they had for the first three-and-a-half years of high school. Resist the urge to blow off classes, assignments and extracurricular activities. It would be a shame for all that hard work to go to waste for one lousy semester. Financial aid offers can also be affected by a noticeable decline in performance.
Schedule time for rewards instead of college applications…
Good organization and scheduling can let students both finish their assignments and take the time to treat themselves to fun stuff as well. For instance, after finishing an assignment, students can reward themselves for a job well done. After all, students managed to maintain their work, attend their extracurricular activities and complete their college applications just a semester ago. Now that they no longer have the college applications to write, students can certainly carve out time to have fun without shirking their academic and other obligations.
Practice for college…
Try to remember that college is ultimately about learning. Students should continue to do their work because the material they learn in high school provides the base for what they will learn in college. The study skills students build in high school will be the foundation for the study skills they need in college. Just like any other skill, good study habits can get rusty when out of practice. By continuing to put in a good effort through the end of the second semester, seniors keep their skills sharp, which may ease the transition from high school to college.
Don't spread senioritis!
Be courteous to underclassmen and teachers by not creating distractions in the classroom. Teachers are trying to convey knowledge and other students are trying to learn. While it is easy to think that teachers are unaware that a student is sending a text message, or that underclassmen are unaware that another student is on Facebook in the middle of history class, such activities are often very noticeable and not appreciated in a classroom.
School will be out for summer
Finally, take heart: summer is just around the corner! Soon seniors will be able to rest, relax, and, yes, slack off before they begin college. Bottom line: keep up the good work for just a little longer and then enjoy a much-deserved summer vacation!