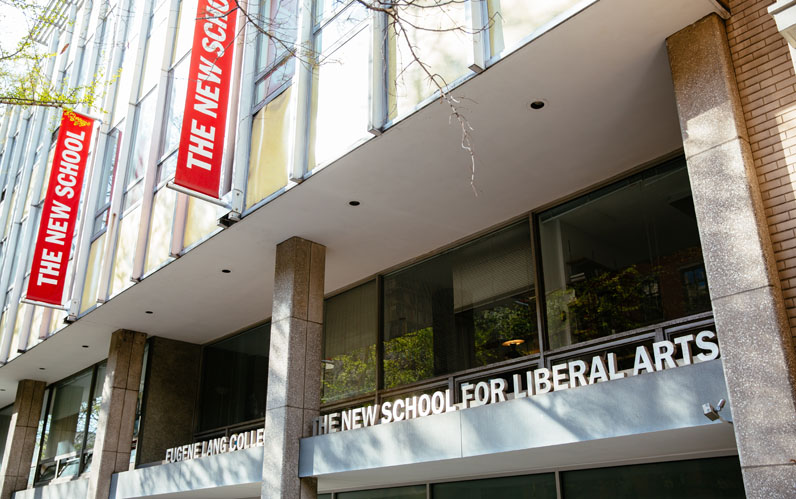 Put 1,800 fiercely independent thinkers, creative spirits, and social activists in the heart of New York City's oh-so-hip Greenwich Village, and you have "Lang" – the Eugene Lang College of Liberal Arts at the New School. Lang is growing in popularity as acceptance rates at NYU (its bigger neighbor) plummet to miniscule levels. Read on to see if this small liberal arts college and its decidedly alternative college experience may be right for you.
Lang's unique take on undergraduate education is inseparable from its breathtaking location – fully integrated into one of New York's most eclectic, diverse, and chic neighborhoods along Fifth and Sixth avenues. The dynamic city offers bold students unlimited ways to explore.

Lang's roots in progressive education (it was founded in 1919 by a small group of professors including John Dewey and Thorstein Veblen) have shaped its emphasis on critical inquiry and academic freedom. Students face very few gen-ed requirements, and are encouraged to pursue their unique academic passions across disciplines. 

Academic strengths include economics, theatre, politics, urban studies, journalism and design, culture and media, psychology, and the arts. Intensive reading and writing is the norm and small, discussion-based seminars will be your experience in all 4 years.

All students complete a personal capstone project, and Lang offers 40 Bachelors-Masters combination programs in social sciences, the arts, music, and its renowned Parsons School of Design (recently named the country's best art and design school for the fifth year in a row). 

Lang students enjoy a central academic hub with state-of-the-art classrooms, plus access to 15 other nearby college buildings that house academic support resources, career and academic advising, tech and maker spaces, studios, an auditorium, and a library. Student housing (30% of students choose college-provided housing) is offered in several buildings, complete with residential staff and activities to build community. 

If you love libraries, you'll appreciate knowing that Lang students may use the Bobst Library at NYU – the architecturally-stunning, 12-story paradise – which houses 4 million volumes, receives 10,000 visits a day, and offers study spots for 2,600 students.

Lang's friendly mascot, Gnarls Narwhal (they/them), features a fictional (we suspect) life story on the school website that includes such gems as "Gnarls is a Pisces." Though the college offers no varsity sports, Gnarls gives students a sense of spirit and pride

It's not easy to run out of things to do in New York City, but Lang does offer semester-long and shorter-term study abroad options with partner universities in Amsterdam, Rome, Tokyo, Hong Kong, Spain, Germany, and other locations.