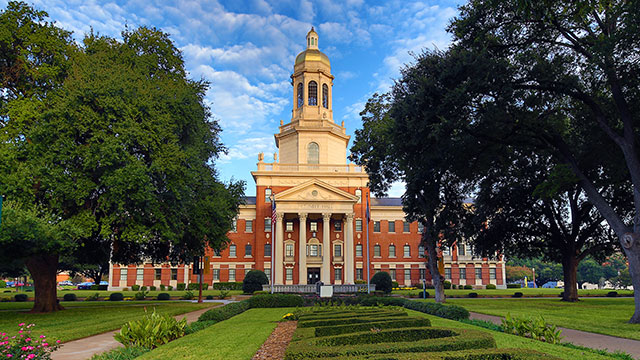 Located in Waco, Texas and chartered in 1845 by the last Congress of the Republic of Texas, Baylor University is the oldest continuously-operating university in Texas. Baylor describes itself as the largest Baptist university in the world. Baylor's stated mission is to educate men and women for worldwide leadership and service by integrating academic excellence and Christian commitment within a caring community.
Academic
Baylor has schools of Arts & Sciences, Social Work, Theological Seminary, Business, Honors College, Nursing, Music, Health and Human Sciences, Education, and Engineering and Computer Science. Students can choose from 141 baccalaureate programs in fields as varied as business, education, nursing, pre-medicine, music, and computer science.
Social Life
Baylor is predominantly a Texas school, with the vast majority coming from in-state, though all 50 states are represented in the student body.  Most students live off campus, with just 39% residing in campus housing. There are 40 fraternities and sororities at Baylor. The Bears compete in Division 1 athletics in the Big 12 conference.
Environment
Baylor is in a city with just under 125,000 residents located midway between Dallas and Austin.
Baylor's 1,000 acre campus is on the Brazos River, the 11th longest river in the United States. An historic area of the campus is the Burleson Quadrangle which contains the original four buildings of the campus.
And one more thing…
In 1996, after more than 150 years the school's dancing prohibition was lifted. for the first time in the 151-year history of Baylor University, dancing was allowed on campus at this Southern Baptist school.
By the Numbers
Undergraduate Population: 14,189
Acceptance Rate: 44%
Average ACT / SAT (new) scores: 25-30 / 1140-1320
Student-faculty ratio: 15:1
4-year graduation rate: 54%
US News Ranking: 71 National Universities (2017)
Tuition: $42,006 (2016-17)