This is the time when most early decisions come back, so we understand seniors feeling a little anxious!  We're all hoping they got the "Congratulations" text, but it's also possible to get one of the less welcome messages: the "You've been deferred" text or the more difficult, "Sorry" (along with a paragraph about a record number of applicants).
Here's what we recommend for dealing with that middle response… the deferral:
A deferral is not a denial.  The college is acknowledging the strength of the application but has its own priorities when putting together its new freshman class.  This year, we saw HUGE increases in the number of students applying early.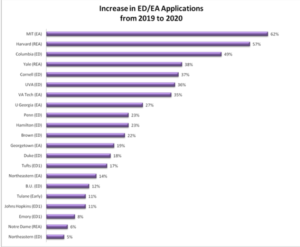 In other words, it wants more information before making its decision.  This may mean more information about the student (most importantly first semester grades), but it may also mean that the college wants to wait until regular decision to find out more about its total applicant pool.
Once the student has registered the deferral emotionally, it's time to make a plan.  Although the college is waiting for the very important Mid-Year report with first semester grades, the student can send an email to the admission office thanking the college for its continued consideration along with an enthusiastic expression of interest in the college. 
Some colleges may invite the student to submit updated information such as new test scores, recommendations, and new accomplishments.  However, other colleges will request that the student refrain from sending all but the Mid-Year Report.  Regardless, the most important thing a student can do is to finish the semester strong.
Then it's time to look over regular deadline applications and add any last-minute polishes before submitting them.  It's also time to get enthused about all of the other great colleges on the list.
Many colleges offer mid-January or February deadlines, and some colleges remain open even after March 1. Colleges review the status of their prospective classes after the initial rush of ED and EA applications and may use later deadlines to fill in what's missing from their pool of acceptances.  So, while we generally advise submitting applications early, many students get favorable replies from applications submitted after January 1. Here are some of the colleges that offer January 15 and February 1 deadlines.
| | |
| --- | --- |
| American University | 1/15/21 |
| Beloit College | 1/15/21 |
| Bucknell University | 1/15/21 |
| Carleton College | 1/15/21 |
| Case Western Reserve University | 1/15/21 |
| Chapman University | 1/15/21 |
| Colgate University | 1/15/21 |
| College of the Holy Cross | 1/15/21 |
| Colorado College | 1/15/21 |
| Denison University | 1/15/21 |
| Emerson College | 1/15/21 |
| George Mason University | 1/15/21 |
| Grinnell College | 1/15/21 |
| Haverford College | 1/15/21 |
| Kalamazoo College | 1/15/21 |
| Kenyon College | 1/15/21 |
| Knox College | 1/15/21 |
| Lafayette College | 1/15/21 |
| Lawrence University | 1/15/21 |
| Lewis & Clark College | 1/15/21 |
| Loyola Marymount University | 1/15/21 |
| Macalester College | 1/15/21 |
| Pepperdine University | 1/15/21 |
| Providence College | 1/15/21 |
| Purdue University | 1/15/21 |
| Skidmore College | 1/15/21 |
| St. Olaf College | 1/15/21 |
| Tulane University | 1/15/21 |
| Union College | 1/15/21 |
| University of Colorado Boulder | 1/15/21 |
| University of Connecticut | 1/15/21 |
| University of Delaware | 1/15/21 |
| University of Denver | 1/15/21 |
| University of North Carolina at Chapel Hill | 1/15/21 |
| University of Southern California | 1/15/21 |
| University of Vermont | 1/15/21 |
| Villanova University | 1/15/21 |
| Creighton University | 2/1/21 |
| Ithaca College | 2/1/21 |
| Marquette University | 2/1/21 |
| Miami University (Ohio) | 2/1/21 |
| Muhlenberg College | 2/1/21 |
| Quinnipiac University | 2/1/21 |
| Temple University | 2/1/21 |
| Texas Christian University | 2/1/21 |
| The Ohio State University | 2/1/21 |
| Trinity University | 2/1/21 |
| University of Michigan | 2/1/21 |
| University of Wisconsin-Madison | 2/1/21 |