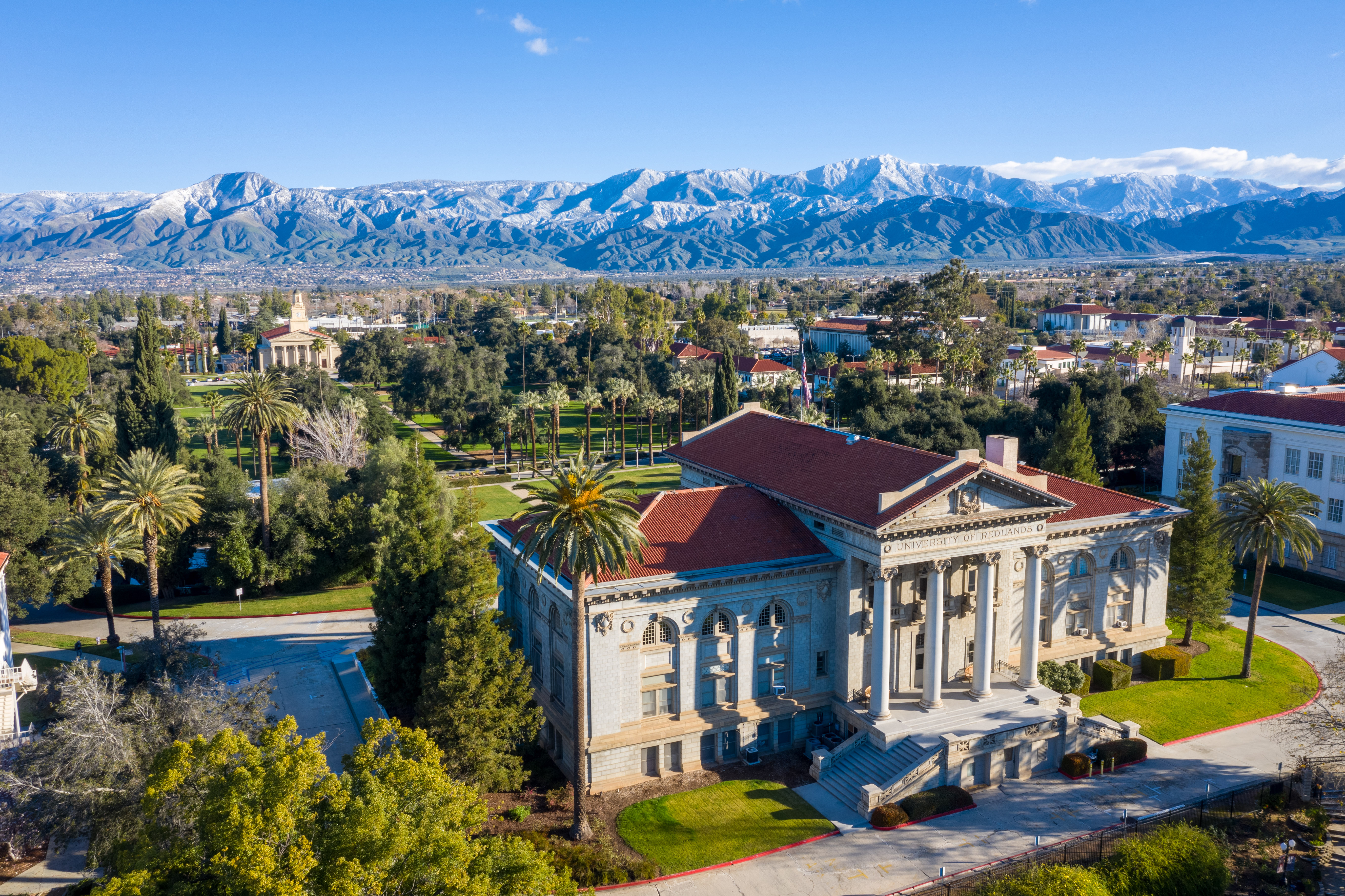 By Paula Wheeler
The Fiske Guide to Colleges calls the University of Redlands "one of higher education's best-kept secrets." Recently, our counseling team welcomed Redlands Admissions Counselor Abigail McConnell, a midwestern native who has fallen in love with California, to tell us about what makes this inclusive, socially conscious university stand out.
Redlands has about 2,300 undergraduates and is a recognized HSI (Hispanic-Serving Institution). The school is residentially focused and guarantees housing for all four years; in fact, has a live-on requirement for all students whose homes are more than 30 miles from campus. Given its location and proximity to mountains, the wilderness, Joshua Tree National Park, ski resorts and the Pacific Ocean, Redlands makes outdoor programs plentiful for students, with trips to these destinations and more throughout the year. There is also a train station nearby for students who want to venture to downtown Los Angeles via San Bernardino.
Redlands offers both liberal arts and pre-professional academic tracks, and popular majors include business, environmental science, psychology, biology and education. The university boasts a nationally recognized program in creative writing. It also offers an engineering combined degree program, where students complete general education and pre-engineering requirements the first three years, then enroll as engineering students at Columbia University or Washington University in St. Louis. These students can finish with two bachelor's degrees in five years or (at Wash U only) finish in six years with an engineering master's. Redlands also has a music conservatory that requires a separate application. Study abroad programs are plentiful and Redlands has a flagship campus in Salzburg, Austria.
A four-year graduation guarantee ensures that for Redlands students who meet all of their student responsibilities, any additional courses necessary for graduation at the end of four years will be funded by the university. To graduate, all students must also take a first-year seminar, perform 80 hours of community service, and complete a capstone experience or project, such as research, an internship or field work.
The most unique academic aspect of Redlands is the  innovative Johnston Center for Integrative Studies, which attracts independent thinkers who wish to design their own course of study. Students can apply to Johnston at any time; once accepted, they set their own plan, goals and syllabus, and instead of grades, they have "contracts" with their professors as well as  a self-evaluation component.
Finally, Redland also strives to make its education affordable. All students who apply will be considered for merit scholarships, and there are other university scholarships as well – for artistic talent (art, creative writing, theater, music), for Native Americans, and for California residents. There is also the Hunsaker Scholarship, a highly competitive award that meets each recipient's full demonstrated financial need for all four years. In 2023, Redlands promises its admitted students with a 3.5 or above high school GPA that their tuition will not exceed $23,000, and the award amount remains consistent for years two through four.
Whether you're pre-professional, liberal arts-inclined, or seeking something entirely nontraditional, the University of Redlands may offer just what you are looking for – so don't hesitate to explore this gem of a school!