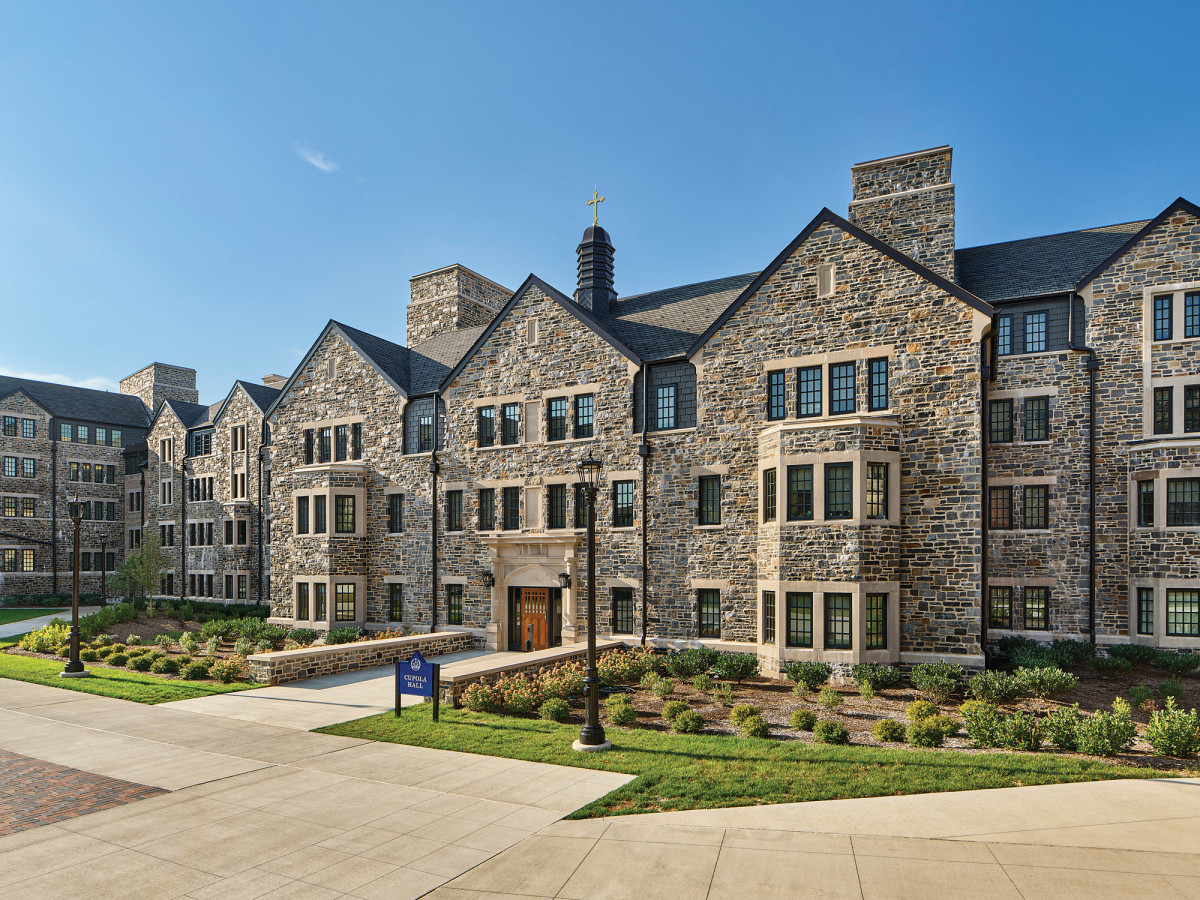 Truth, Unity, & Love is Villanova's motto, and Villanova means "new home." Last week, I had the opportunity to visit Villanova University, just outside Philadelphia, and learned more about its unique community.  Here are four things to know about Villanova:
It is the only Augustinian University in the United States
Villanova's identity as a Catholic university is evident from the abundance of religious insignia on campus–a physically imposing chapel and a cemetery dedicated to Augustinian priests–and its emphasis service learning (students reportedly do an average of 250,000 hours of community service collectively per year). While Villanova is welcoming to students of all backgrounds and faiths, its religious affiliation does set it apart from other universities of similar sizes. Villanova's admissions officers tell students that the university exists to help students find their truth, and spiritual formation is part of that journey for students, however they identify religiously.
When you apply to Villanova, you apply to one of four colleges: Engineering, Business, Nursing, or Liberal Arts & Sciences
Unlike at some colleges, when you apply to Villanova, you must indicate which college you want to attend. Pre-professional programs in nursing, engineering, and business are very popular, but the university also offers degrees in the liberal arts and sciences. Students interested in the sciences are asked to indicate a major when they apply. The takeaway? Villanova is probably best-suited for students who have a somewhat clear picture of what they want to study in college–though obviously there are opportunities for change, too!
There is a strong sense of community and a lot of school spirit
Many people are familiar with Villanova's basketball program, which has won numerous national championships. But Villanova boasts 24 Division I sports teams, and its athletic facilities were some of the most impressive I have seen on college campuses. With 85% of students living on campus, there is a strong sense of community and school spirit. Students at Villanova seem excited and happy to be there, so if you are looking for a college with big-time athletics but perhaps a smaller environment than a state flagship university, Villanova could be a good fit!
Villanova's campus combines access to a cosmopolitan city with a safe and attractive campus 
Villanova is about twenty minutes outside Philadelphia, and it is easily accessible by car and by SEPTA, the Philly train system, which has three stops on campus. But when you are on Villanova's campus, you feel like you are a world away from the city. It is very leafy and suburban. The buildings are architecturally consistent–lots of gray gothic brick buildings–and very well-maintained. In short, Villanova seems to combine a traditional campus experience with easy access to a thriving metropolitan area.