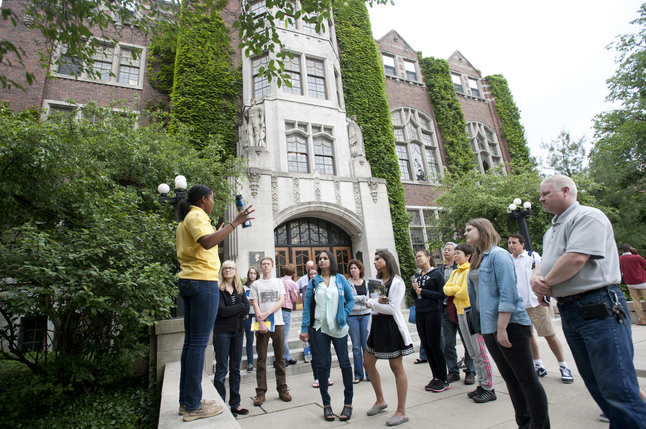 On campus visits, we encourage students to ask thoughtful questions about any aspect of college and campus life that may be of interest to them. Thoughtful questions go beyond the information readily available in college brochures and on the websites to ask for people's opinions, for more details, and to address students' unique circumstances. In order to ask thoughtful questions, students must dedicate some time to researching colleges before they set foot on campus. For more on questions to ask on campus, and who to speak with, read on.
It is important for students to appreciate that, in order to ask thoughtful questions on campus, they must research colleges prior to visiting them. The answers to whether a college has an economics major, a football team, or Greek life on campus can easily be found on the website. The point of a campus visit is to ask questions that cannot be answered from reading the website alone.
Thoughtful questions may include many different areas and will vary according to students' interests, but prospective applicants should ask about a mix of different elements of college life—i.e., academics, social life, extracurricular activities, job prospects after college, etc. For more on how to research schools ahead of campus visits, check out these blogs:
http://galined.com/archives/can-you-research-colleges-without-visiting
http://galined.com/archives/research-college-before-you-visit
Speak to lots of people on campus
In addition to asking thoughtful questions, students should speak to as many people on campus as possible, including admissions officers and current students. Remember that in addition to tour guides and admissions officers, people who do not play a role in selling the school to potential applicants.
The admissions office can often help facilitate overnight stays in the dorms, if they are given sufficient notice; staying in a dorm with a current student will not only help students get a taste of what life in the dorms is like, but can bring students into contact with more current students to ask about the college. The admissions office can also facilitate classroom visits (again with advance notice), which will not only give students a sense of what college classes are like, but can also introduce them to current students to find out more about the classroom (needless to say, this should be done before or after the class starts, not during it). They may also be able to put prospective students in contact with student extracurricular activity leaders, if would-be applicants are interested in checking out a specific one.
In addition, the student union and other local hangouts (coffee shops, for example) can be good places to strike up a conversation with current students.
What to ask?
Ideally, students should prepare their own list of questions that will reflect their interests and needs. Following, however, are some examples of questions that students may wish to ask of people (and to help get students started on thinking of their own questions.
Questions to ask admissions officers:
-> What kind of student does best here?
->What sort of support does the university provide its students?
->What sort of programs does the college offer to help first-year students acclimate to university life (i.e., freshmen interest groups, honors programs, living-learning communities, etc.)?
->What sort of advising does the school offer undergraduates? Who are the advisers?
->What is the campus culture like?
->What is the most unique thing about this school?
->Questions specific to a student's unique circumstances
->Questions about financial aid
->Questions about specific campus programs or seeking more detail about items referenced on websites or in brochures
Also, note that many admissions officers are alumni of the college, so you might ask whether they attended, and if they did, what makes them passionate enough about the school to remain even after graduation.
Questions to ask current students:
->What is your favorite part of attending this school?
->What is your least favorite part of attending this school?
->What do you wish you'd known about this school before deciding to attend?
->What made you decide to come to this school?
->How well supported do you feel by the university? Why?
->How often do you interact with professors? Do you go to office hours? Why or why not? What are your interactions with the professors like?
->What is the campus culture like?
->What is the role of Greek life on campus?
->What do students typically do on weekends?
->What are some school customs/traditions?
->What are the dorms like? Do they typically hold events where students can hang out together? Or is socializing up to students themselves?
Bottom line:
Students should feel free to ask about anything that interests them. They should make sure, however, to ask about a variety of topics (including academics as well as social life), and that the questions that they ask are not easily found on the college website or in the promotional brochures.