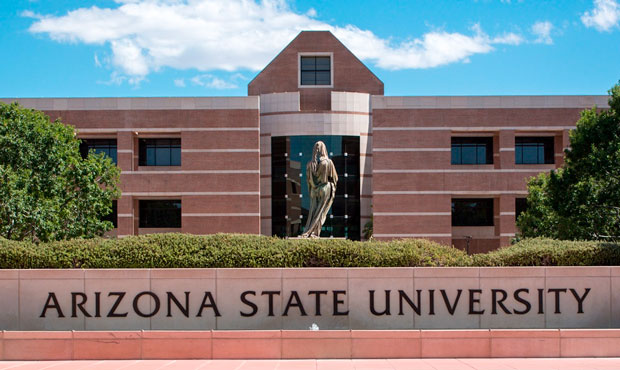 by Jessie Brumfiel
8 Things You Didn't Know About Arizona State University
 Arizona State University: we bet you know it's sunny (300 days a year) and it's big (63,000 undergraduates). But there's so much to discover at this innovative mega-university, including its growing role in producing hundreds of computer science and engineering graduates to Silicon Valley companies whose hiring needs aren't met by California universities. Read on to learn what sets ASU apart.
Can any university rival ASU's ambitious growth plans? We don't think so. Undergrads now choose from four unique campuses, each with its own majors, housing, student life, and identity in the Phoenix area. The historic Tempe campus houses hundreds of majors in the College of Liberal Arts and Sciences, the Herberger Institute for Design and Arts, the School for Innovation in Society, and the School of Sustainability. The downtown Phoenix campus is home to many majors in health sciences including nursing, journalism (and sports journalism), nonprofit management, and more. The expansive Polytechnic campus is home to majors in engineering, computer science, technology, education, and boasts a full-fledged regional airport with several aeronautical degree options. West campus, in northwest Phoenix, is modeled after a liberal arts college and houses programs such as applied math, philosophy, gender studies, sociology, political science, and the first undergraduate degree to be offered by Thunderbird School of Global Management.
The Phoenix-Tempe region is the fifth-largest US city and fastest-growing metropolitan area in the USA, offering students unlimited arts, culture, dining, outdoor adventures in the desert and beyond, 5 professional sports teams, and lots of career internships. Did we mention 300 days of sunshine and 75 degree average temperature? Plus, the vast ASU alumni network encompasses over 500,000 alumni worldwide.
ASU is proud to be measured not by whom they exclude, but by whom they include and how they succeed. Every ASU student has a four-year graduation path that updates each semester, and personal academic and career advising. Academic departments are rewarded for strong retention and graduation rates.
ASU lives up to its reputation as a party school, but it's also home to the Barrett Honors College, "the gold standard in honors colleges in the nation," proclaims the NY Times. Frequently rated the country's Best Honors College, this residential community has more National Merit Scholars than MIT, Duke, Brown, Stanford or the University of California-Berkeley, and Barrett students benefit from a twelve million dollar endowment used exclusively to support honors students and their academic projects.
Research is booming at ASU, which has become one of the fastest-growing research enterprises in the country. ASU currently ranks #6 in the USA for total research expenditures among institutions without a medical school and #11 among universities worldwide for US patents issued. It's #1 in transdisciplinary, anthropology, and geological and earth science research expenditures. This all translates into hands-on opportunities for students to be part of cutting-edge projects and knowledge creation.
Passionate sports fan? ASU students love cheering on a big-time athletics program, as the Sun Devils field talented teams in 26 DI varsity sports. Student-athletes train and perform in olympic-caliber facilities and compete in the strong Pac-12 conference.
Applying to ASU is quick and easy! With a rolling admission policy (decisions begin in the first week of September) and clear-cut criteria for admission to each major posted on the university website, students can see where they fit, and may receive an admission decision back from ASU within a few weeks of applying online.
ASU works to keep tuition reasonable. Over 65% of out-of-state students receive a merit scholarship, and 84% of students typically qualify for some financial aid. Plus, ASU's out-of-state tuition and fees are cheaper than many, at about $32,000 per year (2022).